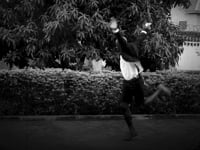 Ghana
The markets in Ghana are the epicenters of commerce and their societal significance can not be understated.
In the northern part of Ghana dwell the Dagomba. They are a very popular people famed for their rich heritage and unique culture such as equine husbandry, dancing horses, powerful herbalists and spiritualists, beautiful dances, music and songs.
Cuba
I am fortunate to have been gifted with a propensity for connecting with people from a multitude of cultural backgrounds. As an artist I study the universalities of human existence, focusing on similarities and difference and how they can beautifully juxtapose from one group to another. The dynamic execution of social ritual born from heritage and historical contexts inspires my aesthetic and compels further investigations that inform my process and work. The African diaspora is a formidable classroom that has influenced so much of the creative expression we experience globally. I aim to absorb and capture as much as possible. With #kso_CultureCapture I am hoping to incorporate moving imagery seamlessly into my study and practice of dance and the performing arts.
My latest creative venture took me to the Cuban cities of Havana and Mantanzas. The retention of Africanisms is palpable and evident at nearly every turn in both cities, with a noted concentration in the latter. Rich in history and lauded as a cultural capital in Cuba, Mantanzas is home to some of the most renowned musicians, poets, dancers, singers and practitioners of African spiritual worship. It is important to note here the prominence of African spirituality for its practices and rituals serve as the basis of so much creative expression in Cuba.
Please enjoy my early efforts as I develop within this new medium. I promise to continue striving to produce the type of world-class work that aptly presents the level of artistry in culture that I am fortunate to experience first-hand.
Special Thanks to Wilbur H., LouisCito, Dr Ahmyrhilis, Mama Diana, Dianique, and all the good people I met during my time in CUBA.
Kwame Shaka Opare is the 2016 winner of the Chuck Davis Emerging Choreographer Fellowship from the Brooklyn Academy of Music. He is a multi-faceted artist focused on the engagement of creativity through performance, lecture-workshops, social impact events, visual media exhibitions, and professional development seminars in order to facilitate environments of productivity, individual and group empowerment, and socially progressive discourse and action.
Do you have a travel perspective you want to share? Leave your thoughts below and visit our Contribute page to share your story.